Doesnt have to be your pet, although that'd be cute.
My babies: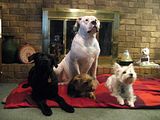 Once in a life time shot of them obedient. i tell ya.
This is my cat Zander who's ignoring me. He used to be my lil'man. He's so funny when he wants to be. I was cleaning my room on day and I put all my movies on my bed or one my floor (this was last year), and when i when to put my (VHS)s back up, he was on the bed like this. I didnt do it i swear.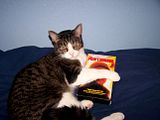 Then he stood on my
DVDs
he did the hug thing with my VHS to me one day.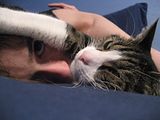 ... my vein's popping out of my head.
and it seems we might be keeping my kitten Mittens. here the 1st picture of him.